My first "from scratch" cake ever! I couldn't believe it. It only took me a few hours over the course of two days, but I did it. (not counting lots of research at stores and online.) I wanted to see if I could make a cake for my daughter's first communion before ordering one from a local baker. Something more special than a box mix. A lot of work, but worth it for the flavor and personal touches.
THE CAKE SPONGE:
I like watching
TLC's The Cake Boss
. Buddy's crew has great taste in cake decorating. It's simply fascinating. I looked up his cake recipe, and tried this one. I think I let it dry out when it was cooling, so be sure not to leave it out too long. Otherwise it was a great tasting, firm cake. It cut and frosted very clean.
Found this recipe at
this website
. I doubled the recipe to have 2 full round cakes.
4 cups flour
3 cups sugar
6 teaspoons baking powder
1 teaspoon salt
1 cup shortening
2 cups whole milk
3 teaspoon vanilla
8 egg whites from large eggs
1 pkg cook and serve pudding, dry mix
Heat the oven to 350 degrees. Line the cupcake pans with paper liners. Combine the flour, sugar, baking powder, salt, shortening, milk and vanilla in a large mixing bowl. Mix at low speed for 2 minutes. Scrape the bowl. Add the egg whites and pudding, then mix at high speed until fluffy and smooth, for approximately 2 minutes.
Fill two 8 or 9 inch round pans full of batter. Do not overfill. Bake for 25 minutes or until a toothpick inserted in the center comes out clean. Cool for 10 minutes in the pans then remove from the pans, and place on wire racks to cool completely.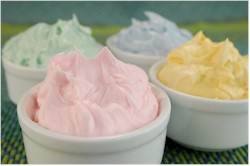 Confectioners Frosting Recipe (used on outside):
4 cups (460 grams) confectioners sugar (powdered sugar), sifted
1 cup (226 grams) unsalted butter, room temperature
1 teaspoon pure vanilla extract
4 tablespoons milk or light cream
Assorted food colors (if desired)
Note: For a softer and fluffier frosting use a combination of 1/2 cup unsalted butter and 1/2 cup shortening. This recipe makes enough to fill and frost one 8- or 9- inch cake.
In the bowl of your electric mixer, or with a hand mixer, cream the butter until smooth and well blended. Beat in the vanilla extract. With the mixer on low speed, gradually beat in the sugar. Scrape down the sides of the bowl as needed. Add the milk and beat to combine. Then, on high speed, beat frosting until it is light and fluffy (about 5 minutes). If not using right away, cover with plastic wrap to prevent the frosting from drying out.
This frosting can be stored in the refrigerator for up to 10 days. Bring to room temperature and re-whip before using. Add a little milk or sugar if needed to get the right consistency.
Tint portions of frosting with desired food color (I use the gel paste food coloring that is available at cake decorating stores and party stores).
To make a Chocolate Frosting prepare the above recipe but beat into finished frosting, four ounces (120 grams) of melted and cooled unsweetened chocolate. Add a little extra milk if needed.
**FAVORITE**
GANACHE FROSTING (used between layers, could double):
7 ounces semisweet or milk chocolate chips (Toll House)
1/2 cup heavy whipping cream
6 tablespoons shortening
1/3 cup confectioners' sugar
1/2 cup marshmallow creme
1/2 teaspoon vanilla extract
Directions
For frosting, in a small saucepan or double boiler pots, melt chocolate with cream over low heat; stir until blended. Remove from the heat. Transfer to a small bowl; cool until mixture reaches room temperature, can refrigerate.
In a large bowl, cream shortening and confectioners' sugar until light and fluffy. Beat in marshmallow creme and vanilla. Add chocolate mixture. Refrigerate if warm. When cooled, beat/whip until light and fluffy.
* This tastes awesome on top of banana bread/cake.
PIECING IT TOGETHER:
With cake's flat bottom on counter, use a serrated knife to cut off and level the tops. Add ganache filling on one cake top. Turn other cake upside down on top of ganache. This will give you a flat top cake. Frost cake with Buttercream Frosting and decorate as desired. (Lick whisk clean!) I used piping tips for flowers, leaves and vines. I got the chocolate cross at Target during their Easter sale.
More
First Communion Cake Ideas Here
.